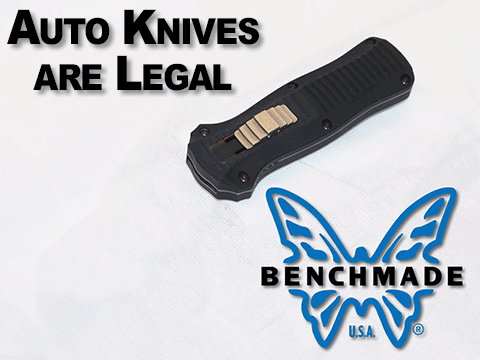 Automatic Knives/Switchblades
Automatic Knives/Switchblades
On July 11th, 2012, Missouri Governor Jay Nixon signed into law a bill repealing the ban on the sale, manufacture and possession of automatic knives, commonly referred to as a switchblades.
Automatic knives open and close mechanically, typically by releasing the blade with a trigger or button allowing spring tension to open the blade. Automatic knives can function like a lockback blade. The knife opens automatically but must be closed manually. Others have blades that extend and retract with a trigger mechanism.
Automatic knives can be used with one hand and are popular with sportsmen or tradesmen who are performing tasks where using both hands to open a knife is inconvenient or dangerous. Those with disabilities, such as missing an arm find automatic knives very convenient.
At Mid America Arms we carry many premium brands of knives, including Benchmade automatic knives. Benchmade knives have a well-earned reputation for quality craftsmanship. Visit Mid America Arms to see our line of knives, including these and other automated knives.