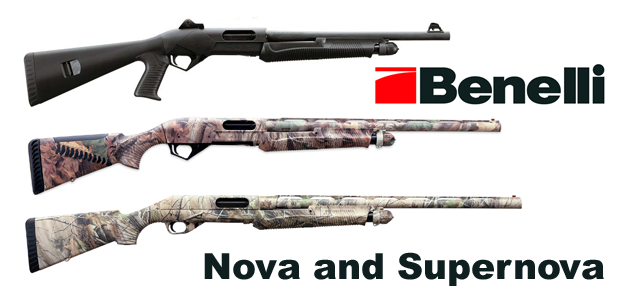 Benelli Nova and Super Nova
Benelli Nova and Super Nova
Mid America Arms carries several versions of the Benneli Nova and Benelli Super Nova 12 gauge shotguns.  The Benelli Nova and Supernova firearms are pump action and can handle many types of 12 gauge ammunition.
Benelli Nova and Super Nova are manufactured with polymer stocks and foregrips that feature a modern design.  These Italian-made shotguns are available in several configurations for the hunter, sporting shooter and tactical user.
Benelli Nova and Super Nova firearms are considered high-quality, with exceptional smoothness and reliability.  These shotguns are a popular choice for avid shooters who need appreciate both great quality and style.  Visit Mid America Arms to see the examples of the Benelli Nova and Super Nova shotgun.  Our experts will be happy to help you find the shotgun with the features you want.