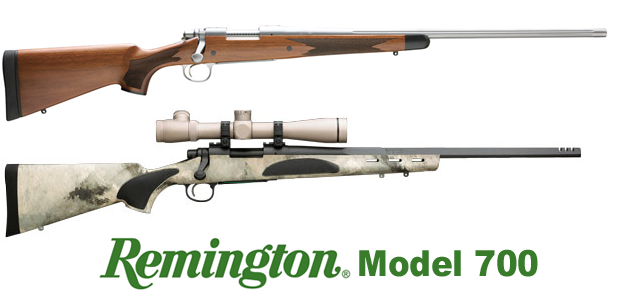 Remington Model 700
Mid America Arms carries many Remington products, among them a selection of the Remington Model 700 rifle.  The Remington 700 is a bolt-action firearm, with centerfire cartridges being fed from an internal box magazine.
The Remington Model 700 is popular among hunters, police and military shooters for its reliability and accuracy.  The rifle is available in several calibers, including Remington's own 7mm cartridge, the .30-06 Springfield and .223 Weatherby.  Remington offers a variety of styles and configurations for the shooter.  Stocks are available in wood or composite.  Remington provides  versions fitted with suppressors to reduce the sound of the round being fired.  Special "heavy barrels" increase the accuracy of a rifle, and Remington offers rifles configured with this feature.  Many shooters will fit this rifle with telescopic sights creating a firearm with exceptional accuracy at long ranges.
Shooters looking for a rugged, accurate and reliable rifle of heirloom quality will be pleased with a Remington Model 700.  Visit Mid America Arms to see this exceptional rifle and let us help you find the configuration that is right for you.