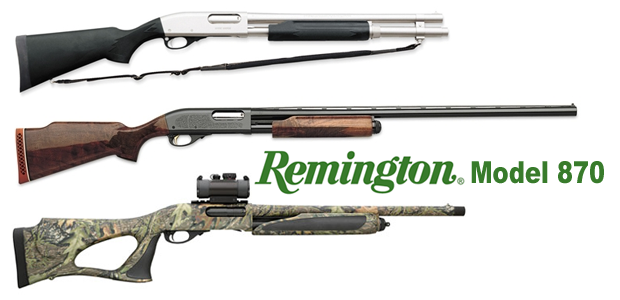 Remington Model 870
The Remington Model 870 is a pump-action shotgun based on a design over 50 years old.  The Remington 870 is chambered for 12 gauge shells and is used for a wide variety of shooting applications.  This popular firearm is available in configurations specialized to hunting, sporting clays, trap shooting, tactical and home defense use.
Remington 870 shotguns are well-respected for being rugged and reliable with a smooth-working action.  The stocks available for this firearm range from classic woods to modern synthetics.  Many Remington 870 models are wrapped in a camouflage pattern, particularly the hunting models.
At Mid America Arms we carry a variety of Remington 870 shotguns as well as an excellent selection of ammunition for any purpose.  Choosing a Remington Model 870 from Mid America Arms will add a venerable firearm that will be enjoyed by shooting enthusiasts in your family for decades.