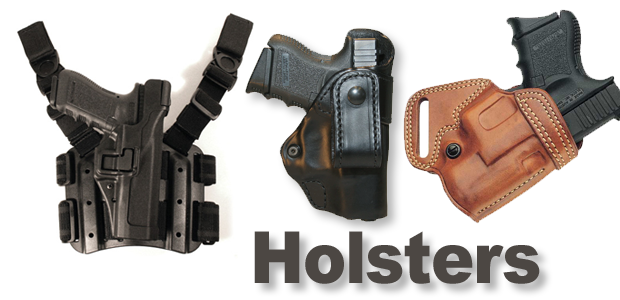 Holsters
Hunters, law enforcement, military, and concealed carry permit holders need a holster to keep their firearm safely available.  Mid America Arms carries a huge selection of sturdy and reliable holsters.  Among locations a shooter can carry a firearm include the belt, pocket, in the small of the back, on the shoulder or in a tactical position on a vest or on the thigh.
How the firearm "rides" on a person's body will greatly impact the comfort the shooter experiences while carrying a weapon.   Where the firearm is holstered on the body will affect the access of the firearm.
Visit our showroom to see the range of leather and ballistic nylon holsters, slings and carry rigs. Our selection includes holsters that will accommodate nearly any firearm, including those equipped with tactical accessories like laser sights and flashlights. Mid America's experts will help you identify the best match for your weapon and your carry style.